Framework Social Value Partners

The SEWSCAP Framework work with a number of Social Value Partners to deliver social value initiatives within the region, striving to make a difference in communities.
---
ANTZ is a leading UK social impact organisation and was established in 2008. It works with large multinational companies, SMEs and micro organisations, through to public sector bodies such as Local Authorities and the Ministry of Justice, to help grow understanding of what social value is, how it is best delivered, and importantly, how it is measured.
ANTZ helps businesses grow and positively impact society at the same time, and has previously been recognised for its ability to support business bring about positive change in the communities in which they operate, via a national award win with its partner Atos – the Institute of Collaborative Working's Award for Social Impact Working with the Third Sector.
In essence, ANTZ helps formulate strategies around social value and supports business wherever they are on their social value journey.
---
Established in May 2006, we are one of the UK's most dedicated and ambitious anti-bullying charities. Our award winning work is delivered across the UK and each year, through our work with individuals, schools, youth and community settings and the workplace, we provide education, training and support to thousands of people.
Through our innovative, interactive workshops and training programmes, we use our experience, energy and passion to focus on awareness, prevention, building empathy and positive peer relationships all of which are crucial in creating a nurturing environment in which young people and adults can thrive.
Vision

Our Vision is to empower and inspire children young people and adults to overcome bullying behaviour, recognise their self-worth and achieve their full potential.
Mission
Our Mission is to support individuals, schools, youth and community settings and the workplace through positive and innovative anti-bullying and well-being programmes and to empower individuals to achieve their full potential.
Values

Ambitious: We are ambitious, hardworking and dedicated to supporting those we work with.
Community: We will continue to collaborate with organisations and partners in the community to complement the existing resources available.
Empowerment: We will strive to deal with the systemic issue of bullying behaviour and empower our beneficiaries to speak out and inspire change.
Excellence: Leading the field in best practice and high standards. To continue to grow, adapt and deliver our services with experience, passion and skill.
Integrity: We are honest and fair and consistently act in-line with a moral code in all that we do.
We do our utmost to be ambitious and continue to deliver an excellent service to the people with whom we work.
The children and young people we work with are full of potential. They have the power to inspire change and we will continue to empower them to speak out against bullying behaviour and behave with integrity and as role models within their communities.

---
Cardiff Women's Aid

Cardiff Women's Aid is committed to ending violence against women and girls and providing high quality and empowering support for survivors of abuse. Working across the capital city
we provide emergency accommodation, community support, group work, education, counselling and aftercare, and have done so since our first refuge was set up by grassroots
women operating on a voluntary basis in 1974. We aim to work with all communities in Cardiff to push for societal change to end violence against women and girls and provide a
better response to all survivors.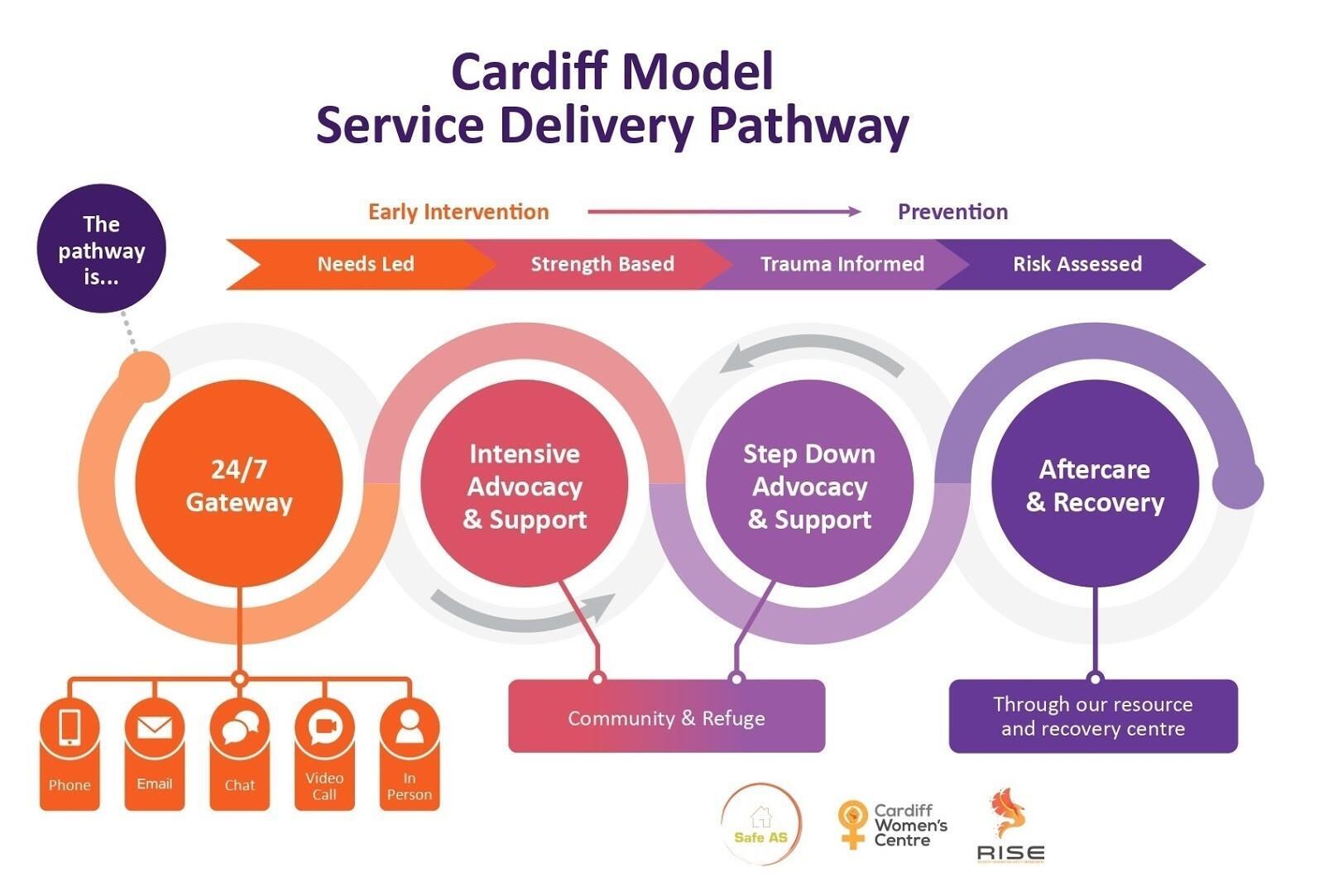 Cardiff Women's Aid provides a multidimensional pathway to women and children experiencing, escaping and healing from trauma and abuse, where women can choose the services
and options which are most helpful on their recovery journey. Our two core service areas are:
RISE Service
As the lead provider of VAWG services in Cardiff, we have a contract until 2025 to deliver the RISE service, delivered in partnership with BAWSO and Llamau. This service includes: 24/7 access point to support. 56 refuge spaces and 16 dispersed/step down units, 1:1 community support, specialist children and young people 1:1 support and PATH therapeutic support.
Women's Centre
Our aftercare and recovery service is crucial in supporting women to regain control over their lives, develop friendships, skills, and go on to develop and thrive. This service includes: A
range of group work activities, peer support groups, community engagement and outreach activities and volunteering opportunities as well as counselling and therapeutic support.
We also provide prevention work includes whole education approach in schools, UK Say No More Safe Spaces project for businesses as well as regular communications and campaigns.

---
Groundwork is the community charity with a green heart. We work towards a society of sustainable communities which are vibrant, healthy and safe, which respect the local and global environment and where individuals and enterprise prosper.
We are a registered charity and member of the UK Federation of Groundwork Trusts. Since 1990 we have been working with our partners in communities where the need is greatest, right across south and mid Wales, to deliver grass-roots programmes that have made a real difference to people's lives and prospects.
At Groundwork Wales, we're all about regeneration in its fullest sense. We use local environmental engagement to realise and release potential in individuals and communities, working towards the wellbeing of future generations and a more prosperous Wales.
Our programmes are green at heart, holistic, flexible and tailored to specific needs through Green Academy, Green Services and Green Enterprise.
Green Academy
Green Academy offers a variety of training and development initiatives for disadvantaged and vulnerable young people through its Agored Cymru accredited training centre. Individual skills' progression is key to our work.
Green Services
Green Services offer a range of environmentally based services in the natural outdoors and inside homes and community centres to improve the health, wealth and well-being of people living in poverty.
Green Enterprise
Green Enterprise supports volunteering and work experience placements through enterprise initiatives. All income generated is invested back into the local community.
---
Llamau's mission is to end homelessness for young people and women in Wales. It's a big ambition and to some, it might seem impossible. But at Llamau, we know that homelessness is not inevitable – it really doesn't have to exist.
Unfortunately, every year in Wales, thousands of people are denied their moral right to a home, and the issue continues to get worse. Last year, almost 8,000 young people and over 16,000 women asked for help with homelessness in Wales.
Llamau's work across Wales aims to achieve three broad things: We stop people being pushed into homelessness in the first place. We provide safe and homely accommodation when it does. And we provide support to help people move on and live independent and fulfilling lives after homelessness.

---
SOHK delivers life-changing programmes across the UK. We change the lives of children and adults using rugby, boxing and strongman courses, supported by a curriculum of powerful life lessons. We work with unemployed adults to find and sustain employment; and with school children at risk of exclusion to help them reengage with education.

---
StreetGames harnesses the power of sport to create positive change in the lives of disadvantaged young people right across the UK. StreetGames' work helps to make young people and their communities healthier, safer and more successful. In Wales, it has already supported over 75,000 young people.
---
Supply Chain Sustainability School
SCSS can help construction companies to meet their clients' sustainability requirements through a wealth of resources focused on building, maintaining and operating more sustainable buildings, infrastructure and homes. Access is provided to an award-winning resource library offering: e-learning, films, tools and learning resources with best in class knowledge on sustainability, offsite construction and management techniques.
---
Empowering asylum seekers and refugees to build new futures in Wales. We provide specialist advice and support services to asylum seekers and refugees in Wales to ensure they can access the services they need.
Welsh Refugee Council is committed to protecting the human rights of people forced to seek safety from persecution, war, conflict, and other forms of injustice and abuse. For over 30 years, we have been helping asylum seekers, and refugees navigate the UK asylum system with specialist advice and support.
We have offices in Cardiff, Newport, Swansea, and Wrexham.
We work extensively with a range of community, voluntary and statutory sector partners to create a society where respect and equality are paramount and human rights are enjoyed.
We support asylum seekers and refugees at the most critical points of their lives. Our work makes the difference between someone experiencing a refused asylum claim followed by their life spiralling into destitution, untreated health problems, and homelessness, or an alternative future where they begin building a life in Wales with improved language skills, access to benefits, legal help, and other support services.
The Education & Employability Team is central to that vision. We understand that to truly feel at home; people need to be developing through education, working alongside their new neighbours, providing for their families and contributing to their community.